Prince's Official Website: www.npgmusicclub.com Unofficial: www.prince.org
Upcoming Boston Dates: Tues. Aug17th and Wed. 18th at the FleetCenter
Boston Shows start tomorrow.... what can we expect
Setlist from last two shows in DC

Aug 14th 8:30-11:15pm
Intro
Musicology
Let's Go Crazy
I Would Die 4 U
When Doves Cry
Baby I'm a Star
Shhh
D.M.S.R.
Feel Like Bustin' Loose - NPGo-Go!
Pass the Peas
I Feel 4 U
Controversy w/Prince's blazing guitar solo
Renato's Interlude
What a Wonderful World
Sometimes It Snows in April {Renato only}
ACOUSTIC SET
Little Red Corvette
Cream
I Wanna Be Your Lover
Alphabet St
Prince and the Band
12:01
Raspberry Beret
Sweet Thing
Adore
7
FULL BAND
Pop Life
Sign O The Times
Whole Lotta Love w/John Blackwell solo
Let's Work
U Got the Look
Life O The Party
Soul Man
Kiss
Take Me With U
ENCORES
Call My Name!
Beautiful Ones
Nothing Compares 2 U
Purple Rain
Aug 13th 8:15-11:00pm
Intro
Musicology
Let's Go Crazy
I Would Die 4 U
When Doves Cry
Baby I'm a Star
Shhh
D.M.S.R.
Pass the Peas
No Diggity w/guitar solo by Mike Scott
I Feel 4 U
Controversy w/Housequake
Renato's Interlude
Georgia on My Mind
Sometimes It Snows in April {Renato only}
ACOUSTIC SET
Little Red Corvette
Peach
I Wanna Be Your Lover
Black Sweat
Alphabet St
Prince and the Band
When Will We Be Paid?
Telemarketeers Blues
I Cculd Never Take the Place of Ur Man
Sweet Thing
Adore
7
FULL BAND
Pop Life
Sign O The Times
Whole Lotta Love w/John Blackwell solo
Let's Work
U Got the Look
Life O The Party
Soul Man
Kiss
Take Me With U
ENCORES
Beautiful Ones
Nothing Compares 2 U
Purple Rain
Prince News:
4/28/04
For Immediate Release

PRINCE SETS PRECEDENT
WITH ONE-OF-A-KIND TELEVISION SPECIAL
AIRING ONE NIGHT SIMULTANEOUSLY ON FIVE VIACOM MUSIC CHANNELS
***
MTV, MTV2, VH1, VH1 CLASSIC, AND BET
TO BROADCAST SPECIAL FROM 9:00 PM to 9:30 PM ON WEDNESDAY, APRIL 28th, 2004
***
Prince's most recent release, Musicology, In Stores Now

MTV Networks, BET and Columbia Records today announced that, for the
first time in history, MTV, MTV2, VH1, VHI Classic and BET will broadcast a single program on the same night, at the same time -- a ground breaking, 30 minute television special featuring performances and interviews with 2004 Rock and Roll Hall Of Fame inductee Prince. The special will be road blocked across all of the participating music channels, and will air on Wednesday, April 28th, from 9:00 PM to 9:30 PM (ET). Check local listings in your time zone for more information. Four of the participating networks will air the special under the title Prince: The Art of Musicology, while BET has dubbed their broadcast Music & Words by Prince.

Recorded before a live audience at New York City's Webster Hall, the one of a kind television event features brilliant performances of material from Prince's eagerly awaited new release Musicology, including the critically acclaimed title track and the powerful "Dear Mr. Man." Also included is an historic acoustic solo performance of a medley of deep classics from Prince's catalog.

Prince's most recent album, Musicology, was released through NPG
Records/Columbia Records on April 20th, 2004.

Prince commented, "The support for Musicology is wonderful. We're
pleased to broadcast the Musicology special throughout the Viacom music
channels. It is great to see audiences around the country embracing music
again."

"This historic broadcast, going out simultaneously over the five most
influential music networks, is a tribute to the music and artistry of one
of the most singular talents of our time," commented Will Botwin, President, Columbia Records Group. "With a fast-paced combination of brilliant performances and compelling interviews this show will be remembered as one of the most special entertainment events of the year."

"I love Prince. Our viewers love Prince and we are so excited to give them the chance to see some of his incredible new live performances on all of our music channels," said Judy McGrath, president of the MTV Networks Music Group. "We share a long musical legacy with Prince and it makes perfect sense to celebrate his new release with a simulcast across our networks."

"BET viewers have waited with great anticipation the return of Prince
to the music scene," said BET President and Chief Operating Officer Debra Lee. "Prince has always had a home on BET, going back to some of his earliest releases. We can think of no better place to punctuate his
return to the music charts than on BET in a unique show hosted by our own head of music programming, Stephen Hill, which features not only Prince's performances, but also some insight into his musical genius."

Prince kicked off 2004 with a stunning opening per4mance at the 46th
Grammy Awards with multiple-award-winner Beyonce and his spectacular
induction into the Rock and Roll Hall of Fame, and launched the phenomenally successful "Musicology" concert tour in March of this year. Prince is regarded by fans and critics alike as a monumental force and influence in popular culture. During the '80s, Prince emerged as one of the most singular talents in the history of music, releasing a series of ground breaking albums that both defined and captured the spirit of the times. A multi-instrumentalist, producer, singer, songwriter, Oscar winning composer, multi-Grammy winning artist, Prince has sold more than 100 million records and is fearless in his pursuit of artistic challenges. He is constantly experimenting with different sounds, textures and genres, and continues to confound audiences with an extensive and varied body of work.


3/31/04 from VH1 story
Prince Shows His Hits At Opening Night Of Musicology Tour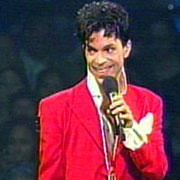 LOS ANGELES — It was a strange case of déjà vu: On the opening night of his Musicology tour, the former Purple Wonder took the stage at the Staples Center to the same words that ushered him into the Rock and Roll Hall of
Fame two weeks ago. Four video monitors facing the crowd replayed Alicia Keys' heartfelt introduction, and the audience exploded as her last few words faded: "... the one and only, Prince."

The tour, Prince's first nationwide trek in six years, has been billed as the last time he will play many of his hits. But Monday's set, surprisingly, kicked off with the title track from his new album, also called Musicology. The song served as a warm-up for the almost three-hour-long concert that followed: Prince, clad in white with a red tuxedo jacket and hat, used the song to brush off his dance moves. He then wiped his face with a handkerchief, brushed off his shoulders and gave a coy look into the audience.

"Los Angeles!" he shouted. Ticker tape and purple streamers fell from the ceiling as the band burst into "I Would Die 4 U," which was followed by short bursts of well-known songs from Purple Rain (most of the evening's hits were performed in abbreviated versions, with crowd-participation sections and searing guitar solos). A truncated version of "When Doves Cry" slipped into "Baby I'm a Star," which led into a brief jam on the song's riff; Prince capped the song by tossing his hat into the crowd and grinning at his fans.

The strings of hits were broken up with lesser-known tunes, the first of which was "Shhh" from 1995's The Gold Experience. But then the deluge continued with a brace of songs from early in Prince's career: "D.M.S.R.," "I Feel for You" and "Controversy." Interestingly, several key words in these songs were changed to convey religious, rather than sexual, connotations. As the band wrapped up the medley with a jam, Prince announced, "We do not believe in lip-synching: This is real. This is real music by real musicians."

Unlike many of Prince's earlier tours, the Musicology stage set is spare: It features a metal tube that doubles as both an arch and a fireman-style pole, a short guardrail on one side of the stage adorned with the "NPG" logo, and a circle of beads hanging center stage. Even the light show is minimal, consisting mostly of spotlights. There isn't much to see besides Prince himself, which seems to be the point.

"God," the moody B-side to "Purple Rain," was the palette-cleanser before a mellower stream of hits, which included a soulful version of "Nothing Compares 2 U." Then the beaded curtain dropped, completely surrounding Prince at center stage for "Insatiable"; even the funky "Sign O' the Times" was slowed down to suit this down-tempo section of the show.

Not until 1981's "Let's Work," with shout-outs to "old school" members of the crowd, did the party atmosphere resurface. "U Got the Look" took it even higher, as approximately 20 members of the crowd were ushered off the floor to spend the remainder of the show onstage with the band. Prince took this opportunity to slip in a new song, "Life 'O' the Party," during which he slyly directed the comment, "I ain't never had my nose done," to the Tinseltown crowd.

"Soul Man," the Sam & Dave hit later popularized by the Blues Brothers, was the only cover of the night. By this point, the band was hamming it up with the fans onstage; one girl even found herself playing a cowbell. "Kiss" and "Take Me With U" made for a crowd-pleasing end to the set, especially when one of the fans onstage tripped and fell when Prince called her to the mic to sing with him. "Too many trips to the bar!" he laughed.

The encore provided a change of pace along with the only costume change of the night: Prince, now wearing black pants and a sleeveless black turtleneck, sat on a chair and gave stripped-down performances of "Forever in My Life" and "Little Red Corvette," almost coming to tears before playing "Sometimes It Snows in April."

He was then joined by the full band for a version of "Purple Rain" that was a show in itself. Introducing it with "I love playing this song," he donned his famous purple symbol-shaped guitar and capped the song with a screeching solo. He then laid on the stage to touch the hands of his fans and called "One more!" over and over again before vanishing down the fireman's pole, while the band played on.
Baby, I'm a Star, Again - How a Seeming Has-Been Spent Months Preparing To Reclaim the Center Stage
By ETHAN SMITH
Staff Reporter of THE WALL STREET JOURNAL
March 31, 2004; Page B1

http://online.wsj.com/art...focus%5Fhs

After years of working on the margins of the entertainment business, pop star Prince is riding a surprise resurgence. But while his comeback seems sudden, it was hardly spontaneous.

The music legend, who burst on the scene in 1978 and dropped off the charts more than 15 years later, has spent months preparing to reclaim center stage. On Monday, he played at Los Angeles's Staples Center to a record-breaking crowd for the arena, more than 19,000 people.

Other major arenas in his 63-city tour are selling out coast to coast. "Musicology," his first major-label release since 1999, is due out on April 20 through Sony Corp.'s Columbia Records. Cable music-channel VH1 begins playing the music video this week. He gave televised show-opening performances at last month's Grammy Awards and earlier this month at the Rock and Roll Hall of Fame dinner, where he also was one of seven inductees.

Yet as recently as December, the 45-year-old Prince looked like a has-been. He'd also become the object of curiosity, if not outright ridicule, thanks in part to stunts like his 1993 decision to change his name to an unpronounceable symbol. People resorted to calling him "The Artist Formerly Known as Prince" for want of another name, sealing his reputation for being erratic.

But it was his years battling his former record label, Warner Bros., that took its greatest toll on Prince's stature and record sales. He was furious that the company, following standard industry practice, refused to cede ownership of the master recordings for his albums going back to 1978. He, and people around him also felt the label, owned by the now privately held Warner Music Group, hadn't devoted enough attention to marketing his older work.

Warner Bros. says the label would need more cooperation from Prince to undertake a stronger marketing effort, adding that the label would be "pleased to work closely with him."

After calling it quits with Warner in 1996, the musician, who changed his name back to Prince four years ago, bounced from label to label. Eventually he settled for releasing his albums himself, including through his Web site, named after his band, the New Power Generation. The NPG Music Club site doesn't release sales figures, but industry experts estimate his album sales were nowhere near what they could have been with the backing of a high-powered record company.

Despite his reputation for being difficult, the former Prince Rogers Nelson of Minneapolis is widely recognized by music critics as a genre-busting, if temperamental, genius. He also was known for pushing musical boundaries as regularly as he pushed the buttons of music-industry executives.

His very public dispute with Warner Bros. -- he has scrawled "SLAVE" on his face to protest the company's dealings with him -- won him no fans in record-industry boardrooms. After years of clashing with the music establishment, Prince ended up isolated by mainstream media: He has sold his work -- all but absent from radio stations, MTV or other outlets -- through the Internet and his own music label.

Critics who long praised Prince's prodigious talent, also seemed to have turned on him. His 2003 self-released CD "N.E.W.S." was largely ignored by critics. Among the few American publications that reviewed the title, the Onion, a satirical magazine and Web site, in its arts reviews derided "N.E.W.S." as the "least-essential album of 2003." According to Nielsen SoundScan, the disc has sold just 20,000 copies since its release in June.

Eric Leeds, a saxophone player on Prince's last tour, told an interviewer for the Minneapolis Star-Tribune that Prince had come to accept "that he's not going to be selling 15,000-seat arenas anymore."

But that's exactly what Prince is now doing. How did this seemingly sudden reversal of fortune take place?

A comeback like this "doesn't just happen," says Ronnie Lippin, a veteran music publicist whom Prince hired in September, when he was first laying the groundwork. Prince decided he had to be more flexible with the industry if he was going to reach his audience. Getting back on the mainstream radar required some aggressive moves. "It is far from a casual process, and Prince is the primary force driving everything," Mr. Lippin says.

Some of the steps Prince took were subtle but effective, such as climbing onstage to play guitar on an impromptu, midnight rendition of his 1986 hit "Kiss" at a January Golden Globes after-party at the Beverly Hilton.

Before securing his new record deal with Columbia, Prince is said to have met with several record executives to discuss signing with them. Among the high-profile executives he talked with: Bruce Lundvall, who as head of Blue Note records, owned by EMI Group PLC, has played a key role in Norah Jones's stunning success. And Prince has gotten his face back into American living rooms by having his publicist book him on television programs from PBS's "Tavis Smiley Show" to "The Tonight Show."

Although Prince is clearly more willing to cooperate with the industry than in the past, he hasn't given up his quirky ways. When Ken Ehrlich, producer of the Grammys telecast, wanted to invite Prince to perform a duet with pop-star Beyoncé, Mr. Ehrlich wasn't told to call a manager (Prince doesn't have one), but a guitar technician named Takumi Suetsugu. Mr. Ehrlich says Prince had declined several previous invitations to play at the Grammys, but this time "he was ready for a major return to the scene."

What's more, Prince wanted to ensure his appearance made a splash. "He had only one condition," Mr. Ehrlich says. "That he open the show."

That performance, a medley of hits by Prince and Beyoncé, garnered critical raves and stoked public anticipation for his concerts. Further heightening the buzz for his tour, Prince has said he will perform old favorites for the last time -- a smart marketing ploy that has helped him nearly sell out six arena shows in the New York City area, and five in the Los Angeles area.

Prince's rapid rise, fall and rise again is a testimony to his stature as a creative powerhouse. He was inducted to the hall the very first year he was eligible under the Hall of Fame's rules. Nominating-committee member Bob Merlis calls Prince "as close to a slam-dunk as there is."

Meanwhile, although Prince still feels angry with Warner Bros., he has since softened in his dispute with the label. His longtime lawyer L. Londell McMillan says the singer is no longer seeking outright ownership of the masters -- just more control and more generous financial terms.

Production, distribution and marketing of Prince's coming CD is in Columbia's hands, but Prince is reserving the online sales for his own Web site. There his fans will be able to download the collection for $9.99 beginning Monday. The CD carries a suggested retail price of $18.98.

It remains to be seen how successful Prince's comeback will be. But one executive thinks he's making the right moves. "The timing feels right," says Rick Krim, VH1's executive vice president for music and talent, viewing a copy of the "Musicology" video.
"He was away long enough," Mr. Krim says.
3/30/04
from: Miami Herald
Prince opens 'Musicology' tour in Los Angeles
Associated Press
LOS ANGELES - Every school should be this much fun.
Prince is billing his "Musicology" tour as a way to educate audiences accustomed to computer-generated hits about the joys of live music - notably his music, that is. He gave them a taste Monday as the tour opened at the Staples Center.
But who was he kidding?
This show is really about the history of Prince, especially given his pledge that this tour will be the last time he plays his hits live.
As he started the night with the title track of the upcoming album "Musicology," followed in quick succession by "Let's Go Crazy," "I Would Die 4 U" and "When Doves Cry," people had to wonder how long he could keep it up. They found out he could go all night.
He's Prince, with hits that span 25 years. And he blasted through it Monday with more panache, whimsy and skill than anyone in music today.
He knew it, too. The 45-year-old recent addition to the Rock and Roll Hall of Fame took playful digs at today's teen-pop creations and his aging contemporaries alike.
"We do not believe in lip-syncing," he yelled during "Controversy." Later, he called out, "I ain't never had my nose done!"
Prince has spent much of the last decade in a sort of self-imposed exile from the top of the charts, preferring to focus on jazz- and funk-infused compositions with his formidable backing band, the New Power Generation.
But on Monday, he grabbed as much well-deserved glory as possible, doing anything it took to keep the audience eating out of his hand through whatever he sang.
His in-the-round style speech and constant interplay with the audience gave him and the band room to shine, with saxophonist Candy Dulfer playing comedic foil to his flirtations, the way Wendy and Lisa did in The Revolution.
He also showed he could make do without gimmicks, taking the stage at one point with only an acoustic guitar to prove his mettle as a bluesman - albeit, a charmingly dirty-minded one. That was followed by a moving a solo version of "Little Red Corvette."
At one point during the two-and-a-half-hour show, Prince brought several fans on stage and released so much confetti it felt like being trapped in a snow globe.
Prince pulled several surprises but may have dug too deep at times. When he went into "I Feel For You," a hit he wrote for Chaka Khan in 1984, he teasingly chided people who didn't initially recognize it.
"Ya'll don't know my music," he cried.
Fans at the solidly packed Stapes Center saw no opening act. Instead, the show kicked off with a video featuring Alicia Keys' speech inducting Prince into the rock Hall of Fame. As she spoke, images appeared chronicling his musical career, his fights with his record company and his constantly evolving facial hair.
Prince also referred frequently to the name he once changed into an unpronounceable symbol, asking the audience again and again, "What's my name?"
---
On the Net: www.npgmusicclub.com
3/30/04
from: Boston Herald

Prince. (AP photo)
Prince gives record company royal kick with early download
By Larry Katz
Tuesday, March 30, 2004

Is Prince looking to bring down the music industry?
Just last week, it looked like he'd finally made peace with it. His Purple Majesty announced a deal with Columbia Records to release his new ``Musicology'' CD on April 20.
Now the newly inducted member of the Rock and Roll Hall of Fame has launched a strike in defiance of the music business-as-usual.
Yesterday Prince opened his own Internet Musicology Download Store at www.npgmusicclub.com, offering fans a chance to download ``Musicology'' and other self-released albums for $9.99 each. Plans call for making individual songs available for 99 cents. Those who pay $25 for a lifetime membership to Prince's NPG (stands for New Power Generation) Music Club will pay only 77 cents per song and receive other benefits, including early concert ticket access and exclusive downloads.
Prince's latest move comes at a time when the major record companies are making their catalogs available through such download services as Apple's iTunes, Napster and Rhapsody. By selling his own downloads, he stands to make far more money than he would sharing profits with a record label.
Prince has been searching for an effective means to sell his own music since leaving Warner Bros. shortly after he began appearing in public with the word ``slave'' written on his cheek, an act that earned the multimillionaire pop star more snickers than sympathy.
But such ineffective moves don't negate the vision of his new downloading business. To make it succeed, all he needs is the one thing missing from his career for the past decade: a hit song people actually want to buy.
Imagine the download action that will ensue if ``Musicology'' has a hit single as good as ``Kiss'' or ``When Doves Cry.''
Then imagine a few big-selling superstars following Prince's example. Imagine new CDs by Eminem, Norah Jones, Bruce Springsteen and Beyonce made available online at each artist's own Web site.
After all the talk about illegal downloading destroying the music industry, it could be legal downloading that puts the big record companies out of business.