Woodstock 99
Well I'm back from Rome NY and from Woodsock99 . Me and Roger Moore worked for Westwood's One coverage of the event. It was quite a wild time..
Pictures:
How big was the campgrounds?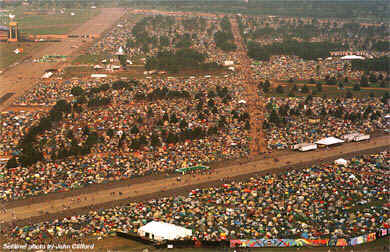 How it ended....


What a shame....
Excerpts From 7/26 News
Conference

Concerning Events at Woodstock 99

Everyone wants to know what happened at
Woodstock Sunday night. Well, now you can
get the news straight from the mouths of the
festival organizers and local officials with these
selected quotes from Monday morning's press
conference.

KEY PARTICIPANTS:
STATE POLICE SUPERINTENDENT JAMES
MCMAHON; CITY OF ROME MAYOR JOSEPH
GRIFFO; ONEIDA COUNTY EXECUTIVE
RALPH EANNACE; WOODSTOCK 99
PRODUCERS MICHAEL LANG, JOHN SCHER,
OSSIE KILKENNY; WOODSTOCK 99
DIRECTOR OF SECURITY OPERATIONS
KENNETH DONOHUE

State Police Superintendent James McMahon
confirmed:

NO DEATHS;
5 INJURIES, ALL MINOR EXCEPT FOR ONE
(MAN WAS PINNED UNDER OVERTURNED
TRUCK, BADLY BROKEN LEG);
2 STATE TROOPERS RECEIVED MINOR
INJURIES;
7 ARRESTS (CRIMINAL
MISCHIEF/RECKLESS ENDANGERMENT).
A series of bon fires were set by a relatively
small group of concert goers (estimated100-200
people);
No permanent assets/buildings at Griffiss Park
were damaged;
Traffic flow out of the festival site was always
orderly;
The National Guard was never called out;
Clean-up and restoration of the site began at 12
noon, Monday;
The stages were not burned or otherwise
significantly damaged;

Rome Mayor Joseph Griffo:
"As disturbing as it may have appeared, what
happened was not representative of the last
three days. What happened reflects more on a
small group of concert goers than on the event
as a whole."
"Our contingency plans worked exceptionally
well."
"To call it a riot is an overstatement."
"Up to last night, the festival was an
unprecedented success."

Oneida County Executive Ralph Eannace:
"It's truly a shame that troublemakers for 3 out
of 96hours overshadowed all the good done for
this community over the course of three days."
"Cooperation between state and local agencies
and the promoters was a tremendous success.
Our planning worked."

Michael Lang: "I'm as disappointed as
anybody that it ended on this note. A relatively
small number of people ran amok causing
problems for everyone."

John Scher: "I'd hate to see such a small
group of troublemakers cast such a negative
vibe on what was otherwise a terrific musical
and historical event. Thank god that it was
contained to damage of temporary physical
structures."

Official Woodstock99 Archive (even a place to upload your pics..)
The New York State Police would like to hear from you if you have
witnessed or been a victim of crimes committed at Woodstock 99. Check
out their Website for more information.
Information on Woodstock99 could be found at the following sites:
Woodstock.com (The official site of Woodstock)
Local Rome NY Newspapers:
Rome Daily Sentinel
Rome Observer
Syracuse New Times
Rome Area Chamber of Commerce

How to get to Woodstock 99 from anywhere, anyhow
Local Rome NY Weather Forecast:
Detailed Woodstock Site Map (big slow download)
The Stages going up: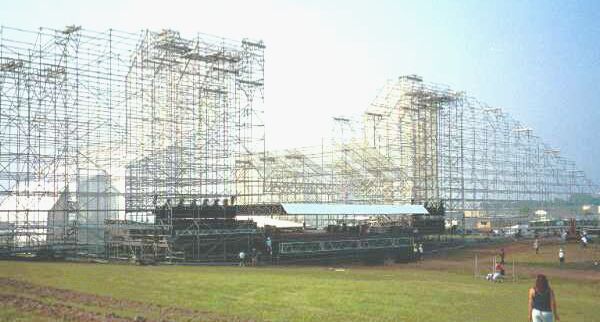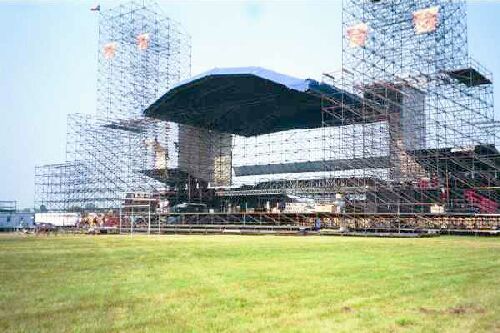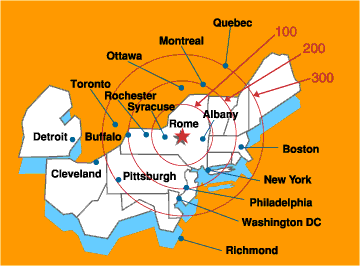 Within 300 miles of most major cities in the northeast:
Syracuse 45 miles
Albany 90 miles
Ottawa 197 miles
Montreal 228 miles
NYC 250 miles
Boston 253 miles
Toronto 289 miles
Philadelphia 295 miles
Cleveland 373 miles
Baltimore 374 miles
Pittsburgh 402 miles
Quebec 412 miles
Washington, DC 417 miles
Detroit 445 miles
Click here for directions on driving to Rome, New York from any
location.